The Transportation as a Service (TaaS) market is growing at a rapid rate. In fact, according to MarketWatch.com (published by Dow Jones & Co.) the global* Transportation as a Service (TaaS) market is expected to grow to $304.97B by the year 2025. In 2017, the total market value of TaaS globally was just $38.76B, according to Business Wire. As you can see, in just a few short years the growth of the market is predicted to skyrocket as new innovations in the industry materialize.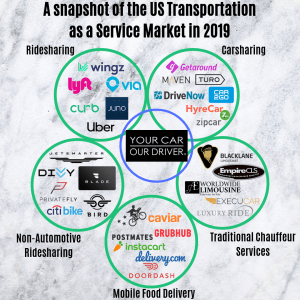 Let's take a step back.
What Exactly Is TaaS?
Transportation as a Service, also known as Mobility as a Service (MaaS) or smart mobility, at its core gives consumers on-demand access to solutions to their mobility needs. It encompasses a wide range of solutions, from bike-sharing programs to pop-up bus services to extra seat bookings on private jets. Autonomous vehicles fit in to this dynamic as well, but at Your Car, Our Driver we believe that our clients value the luxurious experience of having a professional human getting them safely to their destination.
As this market grows, there is an increasing push to integrate various forms of transportation into one easy payment platform, allowing for trips to be streamlined. The great benefit of TaaS means that you'll have to do less planning when it comes to embarking on a trip. This may mean a few quick clicks on your smart phone will allow you to tap into a worry-free day or night out.
So Where Does
Your Car Our Driver
Fit Into The Market?
Our product falls into what is a unique sector of the market. Like Uber, a driver is available at your disposal. However, with our product, you get to drive in your own car instead of somebody else's, by allowing your vehicle to be driven by representatives of our bonded and insured company. On top of this, you get that luxurious experience of dealing with a professionally dressed, well-vetted driver, like with a traditional limousine service. In combining these elements, you're given peace of mind with an experienced driver who can chauffeur you in your own vehicle.
With Your Car Our Driver, gone are the days of waiting for a taxi or uber after a busy show. We believe in the importance of getting a designated driver, but without the frustrating wait. On top of this, alternative to using multiple rideshare vehicles, a car can carry multiple passengers to multiple destinations with no planning ahead. This means that you can go where you want, when you want, for as long as you want.
What We Do With Investors' Capital
Our current capital raise (https://www.startengine.com/your-car-our-driver) extends up to $1.07M. Right now, we're offering 5% off the first month of services for $1000 investment, with perks increasing by the amount invested. Anyone who invests over $1000 on Start Engine directly gets a 10% bonus on their annual interest rate. The money raised in this campaign will be directed towards building out an app in order to streamline our services, as well as to invest in increased marketing efforts.
We are currently on track to have our app up and running by Q3 of this year, meaning that soon enough, our clients will have a dynamic, engaging way to coordinate their trip right at their fingertips. As it stands now, most of our clients come to us via referral – a fact that we're very proud of. Yet we want to reach even more people in the market, something that we know we're capable of if we have the capital to do so.
If you see our vision to be part of the rapidly-expanding TaaS market, invest in us today at https://www.startengine.com/your-car-our-driver.