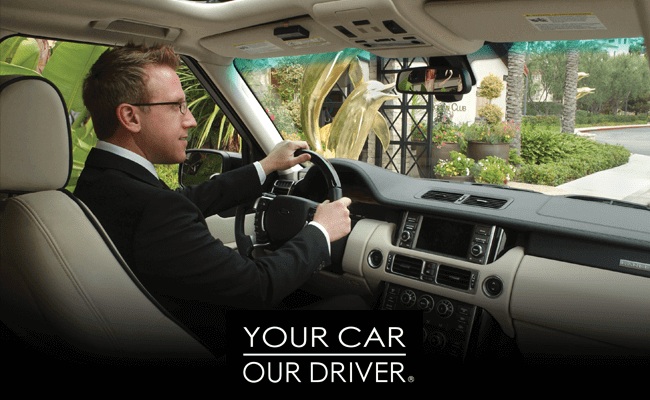 Keep us in mind for summer outings!
Keep cool and enjoy the comfort of your own car while we handle the driving for you.
When you hire a personal driver, you can enjoy a unique alternative to LA private car services. Our chauffeur drivers use your own vehicle to take you where you want to be in Los Angeles, Riverside and Orange counties. You enjoy the comfort and familiarity of your vehicle while we drive your car.
Focus on your destination instead of paying close attention to the road. Our chauffeur drivers are experienced, trustworthy employees. They're committed to bringing you to and from your home safely and securely, for each and every trip you take with us. 
That's right. We drive you and your car to the office. We drive you and your car to the club. We drive you and your car home. 
No matter where you need to go, our professional drivers provide a luxury car service in Los Angeles.
Imagine getting the black car service from the comfort of your own vehicle, getting transportation services while someone else is driving your vehicle. 
Need a chauffeur to go to the Long Beach Airport? To Los Angeles International Airport? To a fine dinner? To black-tie affair? With service in Los Angeles we'll drive you there, and then drive home. We are a "We Drive Your Car" service. 
Personal driver rates in Los Angeles can be lower than private car alternatives while still providing a luxury experience. Don't delay, hire a personal driver today!
Divine Fortune slot can be played at many online casinos, including 1win and Pin-Up, where players can take advantage of a $20 no-deposit bonus. While the presentation of the game may not be as impressive as other slots, the high RTP and multiple progressive jackpots make it an attractive choice for players looking for a chance to win big.
Here are a number of ways we can be of service to you as we drive your car:
Concerts at the Hollywood Bowl

Dinners in Orange County and Los Angeles

Airport transportation to LAX

Trips to Los Angeles, San Diego and Palm Springs

Take your car in for service

Medical Appointments
Now serving the Greater Palm Springs area!
Now, you can also depend on YOUR CAR OUR DRIVER when traveling to or from the Palm Springs area. Same great service, same dependable chauffeur drivers.
Be sure to tell your friends or family who live in the desert about how we can drive your car — and theirs! We'll be looking for new clients in the desert, and our existing clients are our best source of new business!
For those of you traveling to Napa or Sonoma, we have partnered with Designated Drivers Napa Sonoma. For more information, click here.
Reservations are just a call or click away for a chauffeur throughout Los Angeles and beyond.
Reservations now even easier to make

online

Just $48 per hour

3 hour min. all days

5 hour min. on Saturday after 5 pm

Insured and bonded with trusted chauffeurs

All Chauffeurs are Employees
You can also email us at info@www.yourcarourdriver.com or call directly 949.283.0863.